DOLOMITI RESCUE RACE – 12th EDITION
04 Sep 2023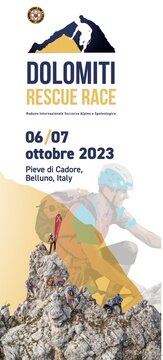 Our Friends from the CNSAS would like invite you to the Dolimiti Rescue Race 2023
Dolomiti Rescue Race is an international event dedicated exclusively to members of Mountain Rescue and includes technical and performance tests.
It is a race for teams made of four members each, all equipped with personal and team's technical materials. The race has a mass start, a 1230 mt elevation, 250
mt of which on exposed rocky ridge, safely equipped
by the organization. The descent features a 60-metres abseiling to the gravel road that leads to the Cadore valley in a 1100 D- drop. Along the route various technical rescue tests.
The entire route develops along the slopes of the King of the Dolomites: Mount Antelao. The scenery of the Marmarole Group and the Spalti di Toro surround this exciting race.
This event was conceived with the goal to meet and befriend with the fellow members of the national and international mountain rescue services, to have an opportunity to get together outside the usual pressure- cooker environment of a mountain rescue operation.
So it is not only a sport race, but most of all an occasion to share with families and friends a cheerful day with the healthy spirit that is typical of our nature.
The 2023 edition awaits you all from 6 to 7 October 2022 in the Cadore Dolomites, heart of the Dolomite Alps and site of the Unesco heritage.
All the details about the race and the registration - please look at the attached file.