Change in our Office!
19 Oct 2023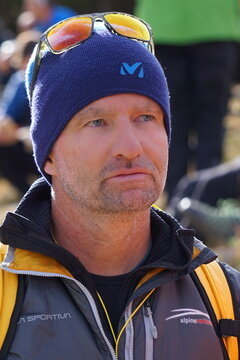 Ralph Naef takes over the ICAR office on October 18th, 2023, start of the annual congress of the International Commission for Alpine Rescue ICAR in South Tyrol.
Ralph Naef is a mountain rescuer in Grindelwald, Berne, and president of the Alpine Rescue Berne in Switzerland. Ralph, who holds an Executive Master of Business Administration, is a mountain guide and a tourism expert. He succeeds Lise Forster, who has led the ICAR secretariat since 2021. Lise Forster is relinquishing her position at the ICAR office in order to dedicate more time to other commitments, notably her role as rescue chief of Châtel-St-Denis, a rescue station in the Alps of western Switzerland. We thank Lise Forster for her work at the ICAR office and wish her every success in her commitments.
-------------------
Ralph Näf betreut neu die Geschäftsstelle von IKAR
Mit Beginn des Jahreskongresses der Internationalen Kommission für Alpines Rettungswesen IKAR im Südtirol am 18. Oktober 2023 übernimmt Ralph Näf die Betreuung der IKAR-Geschäftsstelle.
Ralph Näf ist Bergretter in Grindelwald, Bern, und Präsident der Alpinen Rettung Bern in der Schweiz. Ralph, der einen Executive Master of Business Administration absolviert hat, ist auch Bergführer und Tourismusexperte. Er folgt auf Lise Forster, die seit 2021 das Sekretariat von IKAR geführt hat. Lise Forster gibt ihre Funktion bei IKAR ab, um sich verstärkt auf andere Aufgaben zu konzentrieren, insbesondere auf ihre Tätigkeit als Rettungschefin von Châtel-St-Denis, einer Station in den Westschweizer Alpen. Wir danken Lise Forster für ihre Arbeit für IKAR und wünschen ihr viel Erfolg bei ihren Aufgaben.
----------------------
Ralph Naef prend en charge le bureau de la CISA
Ralph Naef prend en charge le bureau de la CISA le 18 octobre 2023, date du début du congrès annuel de la Commission internationale de sauvetage alpin CISA au Tyrol du Sud.
Ralph Naef est sauveteur en montagne à Grindelwald, Berne, et président du Sauvetage Alpin de Berne en Suisse. Ralph qui détient un Executive Master of Buisness Administration est également guide de montagne et expert en tourisme. Il succède à Lise Forster, qui dirigeait le secrétariat de la CISA depuis 2021. Lise Forster démissionne de son poste de la CISA pour se consacrer davantage à d'autres engagements, notamment son rôle de chef des secours de Châtel-St-Denis, une station de secours dans les Alpes de Suisse romande. Nous remercions Lise Forster pour son travail au bureau de la CISA et lui souhaitons plein succès dans ses engagements.