Canyoning Guidelines
21 Oct 2017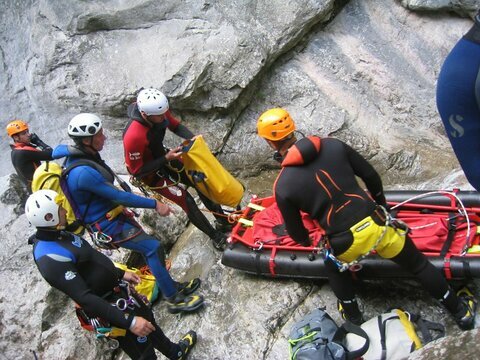 Consensus Recommendations for on-site Management and Transport of Patients in Canyoning Incidents (ICAR Medcom)
Inigo Soteras MD PhD, Giacomo Strapazzon MD PhD, Oliver Reisten MD, Fabien Argenone MD, Ken Zafren MD, Greg Zen-Ruffinen MD, Gordon L. Larsen MD
Objective: This oral presentation provides guidance to ICAR members about best practices for on-site management and transport of patients in canyoning incidents.
Methods: The International Commission for Mountain Emergency Medicine (ICAR Medcom) convened an expert panel to develop a consensus guideline.
Results: Canyon SAR teams should be prepared to manage Pre-hospital Trauma Life Support and medical procedures related to environmental, topographical and logistical conditions. Health care providers must be comfortable to work under water exposure, with limited therapeutic options, aware of patient and rescuer safety.
Conclusions: These consensus recommendations for management of canyoning incidents focus on its unique remoteness, water-exposure recue scenario.