ICAR 2019 Convention - Review
15 Sep 2019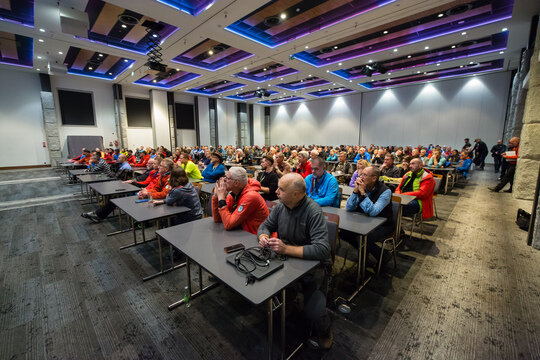 In the year 2019 Tatrzańske Ochotnicze Pogotowie Ratunkowe - Tatra Mountain Rescue Service has a second chance to welcome delegates to the ICAR Congress held in the foothills of the Tatras, in Zakopane. In 2004 we hosted our first Congress. This year we are celebrating the 110th anniversary of our organisation. TOPR was officially registered as a mountain rescue service on October 29, 1909 - as one of the first such organisations in the world. After 110 years of complex history, and various turmoils survived by our members, as well as by the organisation itself, we currently operate under the original name and follow the principles closely adhering to the ones of 1909.
Since the very birth of TOPR teamwork and ability to cooperate have been the keystones of our organisation. We are very lucky that teamwork is the main theme of this year's ICAR Congress.
During the Congress, held at the Nosalowy Dwór Resort in Zakopane, we have the opportunity to present our experience from the last months - extensive joint work of various rescue agencies during mass casualty event resulting from great popularity of the Tatras among tourists, as well as intensification of powerful weather phenomena. I am referring to the case of thunderstorm which left more than 160 persons injured, many in severe health distress, and four people - including two children - passed away. This disastrous event occurred at a very intense time for our small, local organisation. There was an ongoing cave rescue which came to completion after a month since the first rescuers were sent underground, an evacuation of more than 400 passengers trapped in the mountains after lightning damage to cable car, and a number of "standard" rescue interventions in the Tatras. Without exemplary cooperation with other rescue organisations and agencies these operations would not have been completed.
We hope that the event, with its unique opportunity to exchange experience among several dozens of rescue organisations, and others aiming to support mountain rescue, results in greater efficacy of mountain rescue in the world. If this exchange helps save one more life - this is enough of a reason to organise and take part in the Congress.
Jan Krzysztof, Leader of TOPR
Dates:
Tue 08 Oct 19 > Arrival
Wed 09 Oct 19 > Practical Day (optional), under the lead of TER
Thu 10 Oct 19 > Congress
Fri 11 Oct 19 > Congress
Sat 12 Oct 19 > Congress (incl. ICAR Assembly of Delegates)
Sun 13 Oct 19 > Departure
General Topic:
Teamwork
Main Convention Registration Statistics:
| | |
| --- | --- |
| TER | 72 |
| AVA | 50 |
| AIR | 71 |
| MED | 69 |
| DOG | 24 |
| No specific Commission* | 93 |
| Companions | 15 |
| Partners & Exhibitors (29 Booths) | 70 |
| Total registered attendees* from 34 countries : | 460 |
*includes 28 non-members
As registration opened mid June only, a reduced Early-Bird Rate (including full early payment) could not be offered. There were 334 hotel accommodation rooms needed (236 single use, 98 double use). Some local participants attended without hotel accommodation.
For attendees arriving by plane, direct bus transfers from Kraków Balice Airport to the Venue Nosalowy Dwór in Zakopane and back were organized by TOPR.
Pre-Conference Practical Workshop Statistics:
Registered Participants 312
The optional Pre-Conference Practical Workshop on Wednesday took place in the nearby Kościeliska Mountain Valley. Participants were transfered by buses organized by TOPR (some 270 attendees made use of it).
Saturday Statistics:
The ICAR Assembly of Delegates was attended by some 250 persons (including 13 Executive Board Members & ICAR Office).
Some 500 persons took part at the concluding Gala Dinner (including approx. 50 local volunteers & staff).
A BIG THANK YOU to all the TOPR Staff and Volunteers, the Noslowy Dwór Resort Staff and all the other involved Helping Hands for having made this very memorable event possible!