Call for Incident/Accident reports AND 4 days remaining to register for the ICAR Congress registration
20 Sep 2022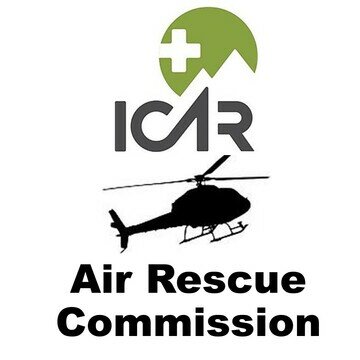 Dear ICAR Air Rescue Commission (AirCom) delegates and colleagues:
I am excited to tell you that we have more than 390 attendees registered for the 2022 ICAR Congress in Montreux next month, and 65 Air Rescue Commission colleagues attending the Air Rescue Commission sessions at the Congress!
REQUEST FOR REPORTS ON ACCIDENTS AND INCIDENTS IN AIR RESCUE OPERATIONS
As we develop our annual summary of incidents and accidents in air rescue operations, I write today to ask you to contact me with any information you have regarding accidents or incidents that you are aware of.  If you are attending the ICAR Congress in Montreux next month, please also indicate if you would be willing to either make a very brief presentation about the incident, or simply discuss it in the Air Rescue Commission session on Thursday morning.  Please contact me at charley.shimanski@gmail.com or Air Rescue Commission Vice President Renaud Guillermet at r_guillermet@hotmail.com.
LAST CALL FOR REGISTRATION TO THE 2022 ICAR CONGRESS 12-15 OCTOBER IN MONTREUX SWITZERLAND
I also remind you that registration for the 2022 Congress will close on September 25.  If you have not yet registered, please do so soon.  Registration information can be found HERE, and general Congress information can be found HERE.
A list of our AirCom sessions is listed below:
Accidents, Incidents, and Prevention – Air Rescue Commission leadership / Charley Shimanski and Renaud Guillermet
SAFETY: Flying Helicopters Without Leaving the Ground; VRM Switzerland / Fabi Riesen
Considerations for HEMS Programs Operating in the Vicinity of Paragliders and BASE Jumpers – Charley Shimanski and Renaud Guillermet
Unique Lessons From Air Force Pararescue Teams; US Air Force / Travis Shaw
European Safety Promotion Network-Rotorcraft (ESPN-R) Working Group update; Alexander Weissenboeck and Bernd Osswald
Aviation Leadership - Needs, Wants and Attitudes; Terry Miyauchi
Dynamic Hoist Profiles for Passive and Actively Controlled Litter Systems; Colorado National Guard / Clayton Horney
"Continue" Decision-Making in Hoist Operation; DRF Luftrettung / Sebastian Schneider and Jörg Redetzky
European Aviation Safety Agency (EASA) Update; EASA / Fabrice Legay
Interdisciplinary Drone Workgroup; An open discussion about Drones as Assets and Hazards
Cell Phone Tracking Systems; SAGF / Lt. Col. Alessandro Alberioli and LIFESEEKER / Héctor Estévez
Load Stability System Live Demonstration; Vita Inclinata / Caleb Carr
Risk Management Workshop; Sécurité Civile / Renaud Guillermet
Pre-Incident Planning - Major Incident Response - Emerging Methods for Taking Care of Our Own; Responder Alliance / Laura McGladrey
Is Oxygen Supply Needed in Providers Operating in Helicopters While Exposed to Hypobaric Hypoxia?; Eurac Research / Giacomo Strapazzon
Rescue and Recovery at Active Volcanoes: an Aviation Perspective Including Key Prompts for Operational Planning; LandSAR NZ / Nico Fournier
The Past, Present, and Future of Mountain Rescue - Gerold Biner
Managing Increased SAR Operational Stress - Responder Alliance / Laura McGladrey
We hope to see you soon!
Best Regards / Meilleures salutations  / Mit freundlichen Grüßen / Saludos cordiales
Charley Shimanski
ICAR Air Rescue Commission President
Charley Shimanski + Air Rescue Commission President + 67 Pauls Road + 80439 Evergreen CO + USA
mobile +1-303-9099348 + www.alpine-rescue.org