Terrestrial Rescue Commission
17 Oct 2022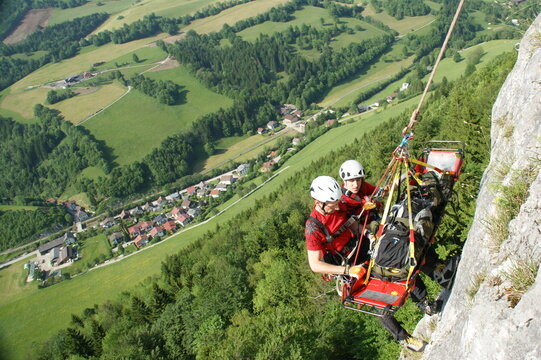 The ICAR Terrestrial Rescue Commission is concerned with all aspects of technical ground search and rescue techniques, particularly in mountainous environments. Terrestrial rescue is essentially a transportation issue, getting patients from a place of predicament to a place of care, and there is a broad array of terrain types and conditions to which rescue teams respond, and consequently the technical systems are varied and diverse. Our main task is providing an environment whereby the collective international knowledge, experience, and methodology can be shared.
The ICAR Terrestrial Rescue Commission meets annually and has an elected president and vice-president. A key theme or topic is chosen annually whereby an exchange of information, presentations, demonstrations and experiences occurs. Where there is interest in further examination of topics, a working group made up of volunteer delegates is formed and the findings are presented to the commission. This work may lead to consensus based recommendations.
The ICAR Terrestrial Rescue Commission also has overlap with the ICAR Avalanche Rescue Commission where there is common interest, such as avalanche rescue techniques and systems, and a portion of the meetings are held jointly. Additionally, the ICAR Terrestrial Rescue Commission and the ICAR Avalanche Rescue Commission alternately organize a practical field demonstration day prior to the annual conference, open to all commissions. Evacuation of subjects often occurs by helicopter once ground based rescuers have accessed and stabilized the subject for transport. As such, there are also common cross-over challenges between terrestrial rescue, air rescue and medical aspects. For that an ICAR process is in place, whereby the respective commissions can jointly work on these challenges.
There is a commission internal archive on Dropbox called "ICAR-TER-Congress-Minutes" (closed user group). To request access permission for that (active commission members only), please contact the Commission President via terrestrial.rescue@alpine-rescue.org.
Further images