Air Rescue Commission
15 Oct 2022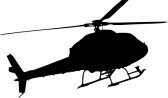 The ICAR Air Rescue Commission consists of experts, pilots, HEMS crew members and hoist operators from all ICAR member organizations. The ICAR Air Rescue Commission tasks, goals and targets are the same as for ICAR: sharing our experience, learning from others and working on prevention.
The commission is run by a President assisted by a Vice-President. The Commission President is a member of the ICAR Executive Board. Usually the Air Rescue Commission meets once a year during the annual ICAR Convention.
The ICAR Air Rescue Commission has to deal with different systems, different rules, different operations and therefore the commission is used to work on best practices more than hard rules. The Commission takes its benefits from the exchange of the members and other international entities.
The knowledge and experience amongst the members of the ICAR Air Rescue Commission is huge and the commission provides expertise all over the world. The database of the commission is for sure one of the largest in the world concerning Mountain Air Rescue. The ICAR Air Rescue Commission publishes recommendations available to all via the ICAR website.
The ICAR Air Rescue Commission and the EHA European Helicopter Association have worked together to obtain an alleviation for the rescuers during the EASA PCDS (Personal Carrying Device System) consultation. Thanks to the cooperation the success was confirmed in May 2016 with the withdrawal of the regulation on single PCDS.
To add your email to the Air Rescue Commission registry, please contact the Commission President via air.rescue@alpine-rescue.org
Further images